Browsershots lets you view how websites appear in the six most commonly used browsers today. It generates screenshots in two resolutions (800×600 and 1024×768).
This is a great tool for web designers who most often check their designs on different browsers and operating systems. Browsershots works by letting you test websites in different resolutions with different plugins.
The best thing about this is it's 100 percent free and very easy to use. Simply visit the site and enter the url of the website you want to check on the box provided and then click submit. You will then be shown a list of browsers compatible with that particular site.
Do you have any tips for using Browsershots? Please add them to this list. Please vote up or down any tips that are already here. Thank you!
Your top tips for using @browsershots #Browsersots #WebToolsWiki
Do you know any Browsershots alternatives? Please add the names of each tool to this list and help others to find them and try them out. Please vote up or down any alternative so we find the most popular ones. Thank you!
Your suggestions for alternatives to @browsershots #browsershots #webtoolswiki
Nov 02, 2014 - crossbrowsertool.com -

16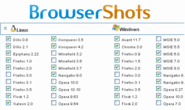 Get shots of your website from different web browser in one step!
Nov 02, 2014 - browsershots.at -

12
Insert a website address and get the browser shot quickly and for free. Browser shot service generates fullscreen preview of websites.
We hope you enjoy Browsershots. To search for any other online tool please use our search box at the top of the page. If you have benefited from what you have learned here we hope you will consider sharing this page with your social media friends by using one of the sharing buttons out on the left. Thank you!
If you have any questions about Browsershots please ask in the comment boxes below either Google+ or click over to Facebook. If you know lots about Browsershots or any other tool featured in The Web Tools Wiki then please let us know in the comments as well. We will connect with you and give you editing rights. We often pay regular editors for their time.