LifeMetrix is a real-time, actionable social media analytics platform for analyzing the performance of your social media marketing campaigns based on your ROI. LiftMetrix instantly creates a customized social media marketing plan to drive key business objectives.
Social Media and Digital Marketers use LiftMetrix to evaluate each of their social media platforms, track their true ROI, and find opportunities to optimize their content strategy and buy ads smarter. LiftMetrix has helped customers efficiently allocate resources, leading to a ROI lift of 30% and has measured over $120MM.
LiftMetrix is the only platform that can tell a social marketer the optimal number of posts and post type per day. LiftMetrix provides daily targets that drive towards a brands objective such as – impressions, site visits, site goals or e-commerce revenue. In addition, LiftMetrix calculates a unique ROI to help a marketer assess the value of social media as a marketing channel.
Do you have any tips for using LiftMetrix? Please add them to this list.
Please vote up or down any tips that are already here. Thank you!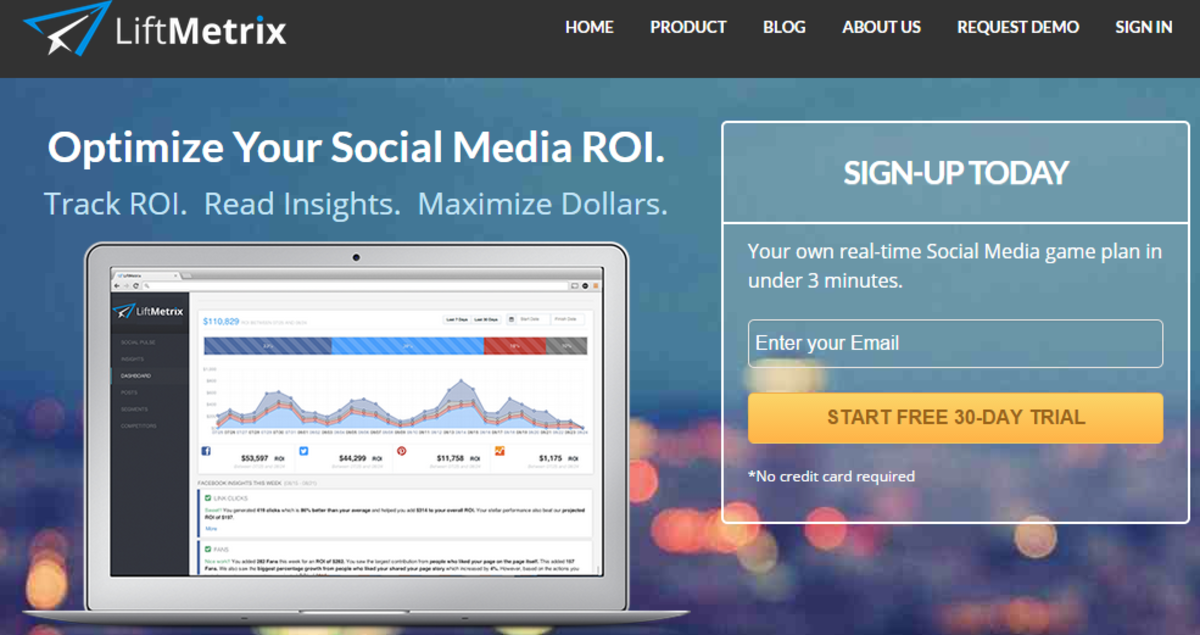 Your top tips for using @LiftMetrix #Crowdify #GetItDone
Do you know any LiftMetrix alternatives?
Please add the names of each tool to this list and help others to find them and try them out.
Please vote up or down any alternative so we find the most popular ones. Thank you!


Your suggestions for alternatives to @LiftMetrix #Crowdify #GetItDone
We hope you enjoy LiftMetrix. To search for any other online tool please use our search box at the top of the page.
If you have benefited from what you have learned here we hope you will consider sharing this page with your social media friends by using one of the sharing buttons out on the left. Thank you!
If you have any questions about LiftMetrix please ask in the comment boxes below either Google+ or click over to Facebook. If you know lots about LiftMetrix or any other tool featured in The Web Tools Wiki then please let us know in the comments as well. We will connect with you and give you editing rights. We often pay regular editors for their time.