A Business Plan Creation System For Businesses And Entrepreneurs
You can easily learn to use LivePlan for business plans. It is used by over 200,000 small businesses and entrepreneurs.
With step-by-step planning, over 500 sample business plans, and expert guidance at every step, it's the easiest and fastest way to get your plan done today. No MBA needed.
LivePlan was built with simplicity in mind. At each step, there are example business plans, video help, and tutorials to help you avoid writer's block. The step-by-step planning method makes it easy to create a professional plan. With built in financials, LivePlan does all the math for you. Your knowledge about your business, combined with LivePlan's forecasting tools will create the plan.
Pitch
The Pitch makes it easy to share a quick one-page overview of your business with lenders, investors, and your team – keeping everyone on the same page, without having to share a full business plan document. Easily add your business overview, team members, and milestones, and turn them into a unique infographic with the click of a button.
Scoreboard
Budgets and sales forecasts are a critical element to business success. The Scoreboard feature brings those budgets to life.
Scoreboard simplifies your day-to-day financials and lets you see your overall performance compared to your plan, all in real time.
Do you have any tips for using Live Plan? Please add them to this list.
Please vote up or down any tips that are already here. Thank you!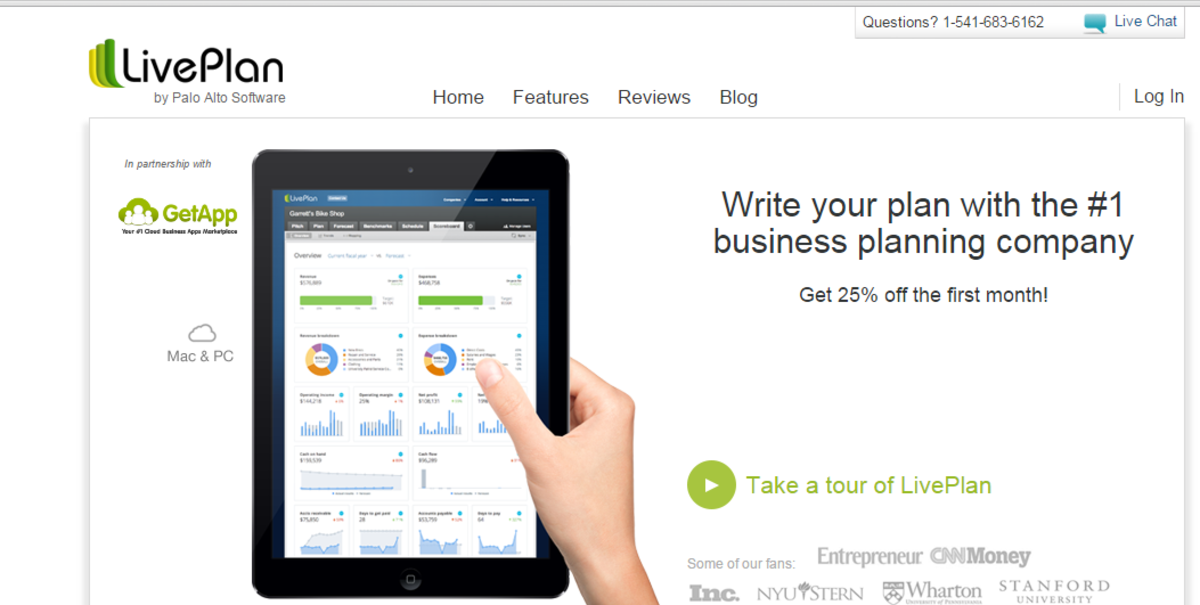 Your top tips for using @liveplan #Crowdify #GetItDone
Do you know any Live Plan alternatives?
Please add the names of each tool to this list and help others to find them and try them out.
Please vote up or down any alternative so we find the most popular ones. Thank you!


Your suggestions for alternatives to @liveplan #Crowdify #GetItDone
We hope you enjoy Live Plan. To search for any other online tool please use our search box at the top of the page.
If you have benefited from what you have learned here we hope you will consider sharing this page with your social media friends by using one of the sharing buttons out on the left. Thank you!
If you have any questions about Live Plan please ask in the comment boxes below either Google+ or click over to Facebook. If you know lots about Live Plan or any other tool featured in The Web Tools Wiki then please let us know in the comments as well. We will connect with you and give you editing rights. We often pay regular editors for their time.