Picreel is an exit intent technology that lets you control the movement of traffic out of your website. This is most useful in reducing website bounce rates and converting the exiting visitors into targeted leads.
It's a fact that most people visiting a website exit after a short stay. This is even if your ecommerce site offers superior customer service. Thus, Picreel is here to help you.
Picreel recognizes your primary goal of converting website traffic into sales as much as possible. And with its exit-intent technology, you have a great opportunity to achieve this.
Picreel's technology can track a visitor's movement while he or she is visiting your website. Some parameters being measured by Picreel to track the movement of a visitor such as mouse velocity and mouse movement.
This tool is easy to use and install with a dashboard design that's very clear and easy-to-understand. As such, you can always take a look to the real-time statistical data that gives you the perspective about how your offers are getting converted. Scales that you will find include visits, conversions, conversion rate, full campaign reports and statistical confidence.
Do you have any tips for using Picreel? Please add them to this list. Please vote up or down any tips that are already here. Thank you!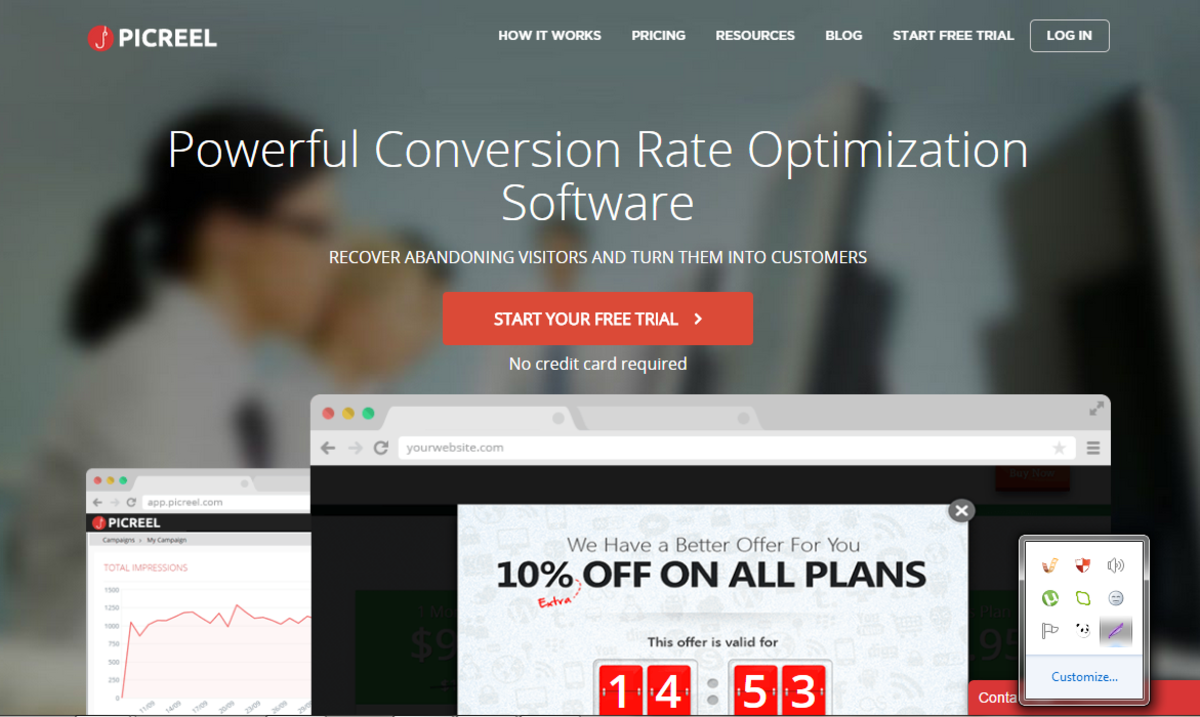 Your top tips for using @Picreel_ #Crowdify #GetItDone
Your top tips for using @Picreel_ #webtoolswiki
Do you know any Picreel alternatives? Please add the names of each tool to this list and help others to find them and try them out. Please vote up or down any alternative so we find the most popular ones. Thank you!
Your suggestions for alternatives to @Picreel_ #Crowdify #GetItDone
We hope you enjoy Picreel. To search for any other online tool please use our search box at the top of the page.
If you have benefited from what you have learned here we hope you will consider sharing this page with your social media friends by using one of the sharing buttons out on the left. Thank you!
If you have any questions about Picreel please ask in the comment boxes below either Google+ or click over to Facebook. If you know lots about Picreel or any other tool featured in The Web Tools Wiki then please let us know in the comments as well. We will connect with you and give you editing rights. We often pay regular editors for their time.