Salesforce is a simple yet efficient tool that requires no software installation. It instantly connects you to your leads, contacts, accounts, and critical business information.
This CRM is a great tool to use if your aim is to close deals quicker wherever you may and whatever the device you are using. Together with your custom apps and AppExchange mobile apps, Salesforce can turn your mobile device into a portable sales office. You can easily log calls, respond to hot leads, work opportunities, or check dashboards no matter your location. And you can even collaborate across teams, from anywhere.
Salesforce CRM puts everything you need at your fingertips—from anywhere. From Social accounts and contacts to Mobile, Chatter, and Analytics, collaboration across your global organization and getting deals done faster is not only possible, it's easy.
How Salesforce.com Uses Salesforce to Manage Marketing Campaigns by @salesforce http://www.slideshare.net/Salesforce/how-salesforcecom-uses-salesforce-to-manage-marketing-campaigns via @SlideShare
Do you have any tips for using Salesforce Sales Cloud? Please add them to this list. Please vote up or down any tips that are already here. Thank you!
Your top tips for using @salesforce #Salesforce #WebToolsWiki
Do you know any Salesforce Sales Cloud alternatives? Please add the names of each tool to this list and help others to find them and try them out. Please vote up or down any alternative so we find the most popular ones. Thank you!
Your suggestions for alternatives to @salesforce #Salesforce #WebToolsWiki
Nov 17, 2014 - opencrm.co.uk -

4
Manage Your Customers Quickly and Easily with OpenCRM They say that seeing is believing, so sit back and let us take you on a guided tour of our system. The video is less than 5 minutes and will give you a first glimpse of what we hope will be your future CRM system.
Nov 17, 2014 - infusionsoft.com -

5
Infusionsoft is the only all-in-one sales and marketing automation software for small businesses that combines CRM, email marketing and e-commerce.
Nov 17, 2014 - netsuite.com -

4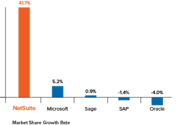 NetSuite is the leading integrated cloud business software suite, including business accounting, ERP, CRM and ecommerce software.
We hope you enjoy Salesforce Sales Cloud. To search for any other online tool please use our search box at the top of the page. If you have benefited from what you have learned here we hope you will consider sharing this page with your social media friends by using one of the sharing buttons out on the left. Thank you!
If you have any questions about Salesforce Sales Cloud please ask in the comment boxes below either Google+ or click over to Facebook. If you know lots about Salesforce Sales Cloud or any other tool featured in The Web Tools Wiki then please let us know in the comments as well. We will connect with you and give you editing rights. We often pay regular editors for their time.