Discover, Curate, and Share Your Perspective On Different Topics
Scoop.it is an online tool that lets you discover content of all types from the web via searches and its community.
To use it, simply type in the topic you want to look for by using your chosen keywords and Scoop.it will do the searching for you from all over the web. You will then get a feed showing articles that match your preferred keywords through the platform's suggestions section, bookmarklet and from its community of active curators who share the same interest as you.
When you have chosen the content you like, you can add your own thoughts or comments and publish it right away on your topic page via your content hub and share it online on social media sites, your own blog or website.
Sharing content on your blog and social networking sites is easy as you can do it in just a single click from one page known as your content hub.
With this tool, you don't have to open several tabs on your browser to search for great topics that matter to you and that you want to share with people all over the world. It's very convenient and useful not only to private individuals but to businesses as well.
Scoop.it lets you discover, curate, and share your perspective on different topics.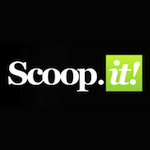 Key Features:
Curate from suggestion engine, other users, and your own bookmarks
Follow other users and their curated content
Rescoop (similar to Twitter's retweet)
Export and share your curated scoops to social media networks, blogs, or through RSS
Create newsletters of your curated content
Premium features are available through paid upgrade to Pro or Business versions
Content curation is an easy way to generate valuable content and present it to an audience. These three free tools, while each tackling content curation in a different way, make it easy to create content that others will thank you for — and allow you to embed that content anywhere.
Here's a short video about Scoop.it. Enjoy!

Do you have any tips for using Scoop.it? Please add them to this list. Please vote up or down any tips that are already here. Thank you!
Your top tips for using @scoopit #Crowdify #GetItDone
Your top tips for using @scoopit #Crowdify
Do you know any Scoop.it alternatives? Please add the names of each tool to this list and help others to find them and try them out.Please vote up or down any alternative so we find the most popular ones. Thank you!
Your suggestions for alternatives to @scoopit #Crowdify #GetItDone
Your suggestions for alternatives to @scoopit #Crowdify
We hope you enjoy Scoop.it. To search for any other online tool please use our search box at the top of the page.
If you have benefited from what you have learned here we hope you will consider sharing this page with your social media friends by using one of the sharing buttons out on the left. Thank you!
If you have any questions about Scoop.it please ask in the comment boxes below either Google+ or click over to Facebook. If you know lots about Scoop.it or any other tool featured in Crowdify then please let us know in the comments as well. We will connect with you and give you editing rights. We often pay regular editors for their time.