Create A Community Around Your Brand With Spot.IM
Spot.IM is the solution for digital publishers/website owners to grow and engage with their community within their site.
This tool enables you to utilize a high-end community technology in a matter of minutes in order to host a live community with less effort compared to similar tools. The great thing about it is that no ad space is used in your website.
Realtime conversation is achieved with Spot.IM through direct messaging, subscription form, recommended articles and community trending content. This ensures that your visitors are able to browse through more pages and stay longer on your site.
Check out our WebToolsWiki tutorial video on Spot.IM below!
Do You Have Any Tips or Suggestions on Spot.IM? Add Them To List.ly Below.
Do you have any tips for using Spot.IM? Please add them to this list. Please vote up or down any tips that are already here. Thank you!
Your top tips for using @Spot_IM #Spot.IM #WebToolsWiki
Nov 18, 2014 - spot.im -

126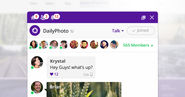 Spot.IM enables you to reach out to your community, spark a conversation and share content with your users easily and effectively.
Do you know any Spot.IM alternatives? Please add the names of each tool to this list and help others to find them and try them out. Please vote up or down any alternative so we find the most popular ones. Thank you!
Your suggestions for alternatives to @Spot_IM #Spot.IM #WebToolsWiki
Nov 18, 2014 - olark.com -

105
Answer customers immediately and monitor website visitor behavior in real time for higher conversions, soaring sales and easy support. Make customers smile!
Nov 18, 2014 - livechat4website.com -

98

Chat4Support is the best free live chat software to let you set up live chat for website, monitor website traffic, and analyze website visitors activities,including their search engine and keyword usage.
We hope you enjoy Spot.IM. To search for any other online tool please use our search box at the top of the page. If you have benefited from what you have learned here we hope you will consider sharing this page with your social media friends by using one of the sharing buttons out on the left. Thank you!
If you have any questions about Spot.IM please ask in the comment boxes below either Google+ or click over to Facebook. If you know lots about Spot,IM or any other tool featured in The Web Tools Wiki then please let us know in the comments as well. We will connect with you and give you editing rights. We often pay regular editors for their time.