Tribe HR is the easiest way to manage your Workforce & Human Resources. With your own secure HR website, you can manage vacation time, job descriptions, performance, skills and goals. TribeHR is perfect for teams with 5 to 500 employees.
1. Simplify and automate much of the drudgery people associate with HR
2. Give employees more control over their relationship with their employer
3. Make HR less about the numbers, and more about the people
If you let us automate and simplify the boring, nit-picky, and frustrating details of managing your employees, then your time can be better spent working on attracting, retaining, and growing the best team members.
The solution is a great fit for SMB and Non Profit organizations.
Requesting and approving vacation requests and sick days. Tracking employee documents. Sharing notes and resources in one centralized place for all employees. By automating the busy work of running a business, we are empowering bosses to focus on what really matters. In addition, our social features, for example, providing a venue for employees to voice their ideas or give and receive kudos, provide a vehicle for increasing morale.
Do you have any tips for using TribeHR? Please add them to this list.
Please vote up or down any tips that are already here. Thank you!
Your top tips for using @TribeHR #webtoolswiki
Your top tips for using @TribeHR #webtoolswiki
Do you know any TribeHR alternatives?
Please add the names of each tool to this list and help others to find them and try them out.
Please vote up or down any alternative so we find the most popular ones. Thank you!
Your suggestions for alternatives to @TribeHR #webtoolswiki
Your suggestions for alternatives to @TribeHR #webtoolswiki
Oct 30, 2014 by Rhea Lou - webtoolswiki.com -

18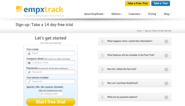 EmpXtrack is a full featured global HR and talent management software on the cloud. It automate all HR functions for small and large businesses. EmpXtrack covers all areas of Talent Management and helps automate the entire employee lifecycle. It includes HRIS, Payroll, Appraisal, Self Services, Applicant Tracking, Benefits administration, Goal setting and many more features.
Oct 30, 2014 by Rhea Lou - webtoolswiki.com -

16
HireSelect is a SaaS pre-employment testing service that features aptitude, skills, and personality tests. Small and medium-sized businesses rely on our tests to get reliable, objective information on candidates, resulting in more informed hiring decisions. Our tests were designed and validated by our test development team, made up of accomplished psychologists and statisticians from leading ...
Oct 30, 2014 by Rhea Lou - webtoolswiki.com -

17
HiringThing is an innovative, effective web-based applicant tracking solution that gives users the tools they need to hire the right people quickly and effectively. With HiringThing, companies can post attractive, customized online job listings as well as rate, categorize and analyze applicants. The process of posting jobs online, receiving resumes and then sorting through potential ...
We hope you enjoy TribeHR. To search for any other online tool please use our search box at the top of the page.
If you have benefited from what you have learned here we hope you will consider sharing this page with your social media friends by using one of the sharing buttons out on the left. Thank you!
If you have any questions about TribeHR please ask in the comment boxes below either Google+ or click over to Facebook. If you know lots about TribeHR or any other tool featured in The Web Tools Wiki then please let us know in the comments as well. We will connect with you and give you editing rights. We often pay regular editors for their time.