Bugsnag's web and mobile error monitoring helps you detect and diagnose crashes in your applications.
Automatically detect crashes in all of your applications
Bugsnag detects crashes in every popular programming language and framework, automatically collecting useful diagnostics to help you resolve your errors quickly.
When errors occur in your application, Bugsnag can notify you using a notification plugin. Notification plugins can perform many actions, including emailing you, posting a message to your chat room or even creating a ticket in your issue tracking system.
You can prioritize errors that need your attention. See exactly when each crash happened and how many users were affected. Filter out the noise so you can get to the errors that need your attention faster.
It also enables you to effectively diagnose your errors. At-a-glance summary shows exactly where and when the error happened, and how many users were affected. Automatically collected diagnostics are intuitively displayed, as well as any custom diagnostics you attach to an error report.
You will receive email & chat notifications. As well as sending error alerts to your email inbox, Bugsnag can also post alerts to your team's chat room. Alerts are automatically de-duped, so your inbox doesn't get overloaded.
There is an issue tracker integration. Bugsnag can automatically create tickets in your issue tracking system when a new error is detected. Or you can use Bugsnag to triage your errors, manually raising issues during review.
Do you have any tips for using Bugsnag? Please add them to this list.
Please vote up or down any tips that are already here. Thank you!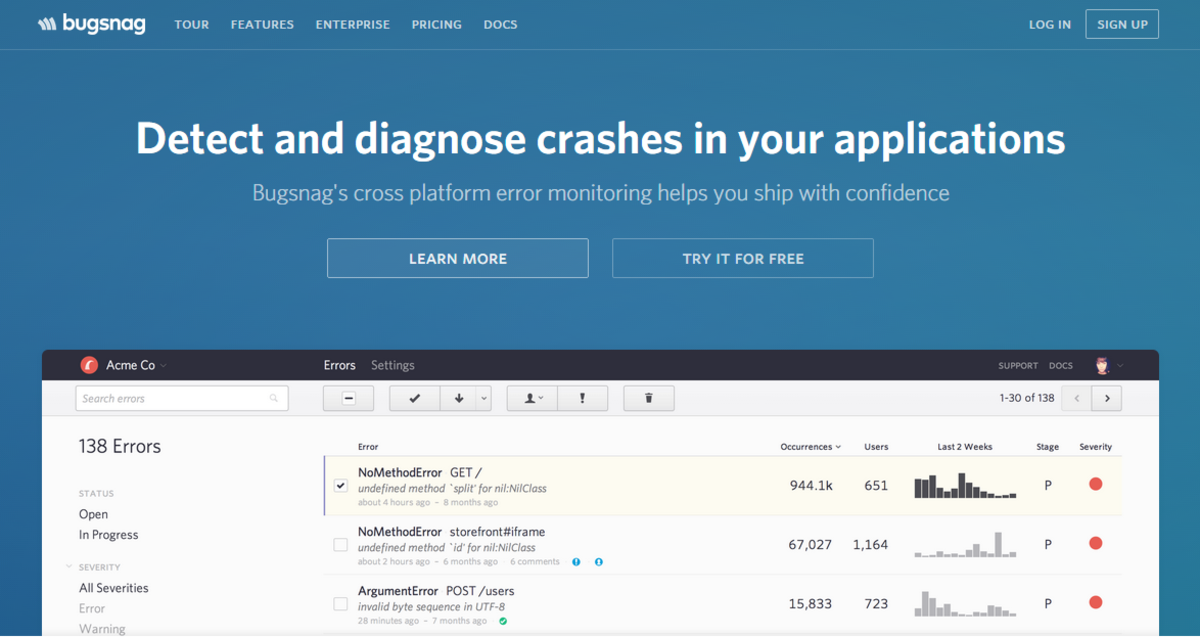 Your top tips for using @bugsnag #Crowdify #GetItDone
Your top tips for using @bugsnag #webtoolswiki
Do you know any Bugsnag alternatives?
Please add the names of each tool to this list and help others to find them and try them out.
Please vote up or down any alternative so we find the most popular ones. Thank you!

Your suggestions for alternatives to @bugsnag #WebToolsWiki
We hope you enjoy Bugsnag. To search for any other online tool please use our search box at the top of the page.
If you have benefited from what you have learned here we hope you will consider sharing this page with your social media friends by using one of the sharing buttons out on the left. Thank you!
If you have any questions about Bugsnag please ask in the comment boxes below either Google+ or click over to Facebook. If you know lots about Bugsnag or any other tool featured in The Web Tools Wiki then please let us know in the comments as well. We will connect with you and give you editing rights. We often pay regular editors for their time.